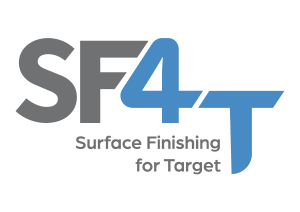 SF4T Surface Finishing for Target wants to propose a complete and sustainable way of providing information, dealing with current issues that mainly concern the treatment of surfaces, but also Post Process in the Additive Manufacturing, highlighting the commitment and progress towards the Environment, Sustainability and Carbon Footprint.

SF4T Surface Finishing for Target wants to talk about constantly evolving technologies, such as shot blasting, sandblasting, vibratory finishing, grinding and cleaning, coatings and electrochemical technologies, Services and consultancy, correlating themes such as Safety, Health and Ergonomics.

SF4T Surface Finishing for Target rewards environmental sustainability, also proposing itself in an entirely digital format, getting rid of paper and ink, with the sole exception of the "Book of the year". However, it remains faithful to the editorial spirit by offering an annual editorial plan, divided into four quarters.

SF4T Surface Finishing for Target is a digital platform open to all readers, so that information can freely reach the largest possible number of readers. The costs of creation and publication are covered by companies that publish their own news, editorial and advertising using the potential of the digital platform. A minimal part of services requires registration and a contribution.

SF4T Surface Finishing for Target is a professional tool, as well as international, aimed at companies, competence centers, technology incubators, universities and centers of excellence – it will therefore have a specific space also on Linkedin, selected as a social network dedicated to the world of work.

SF4T Surface Finishing for Target is the first digital platform where you can publish and be present with important credits, for example for your academic-scientific or training contributions.

The credit offsets the corresponding percentage of the cost of a typical publication on the digital platform, reported in the price list updated online. The structure of credits invites intellectual contribution to reach the platform in the easiest way.

Join SF4T, contribute to the platform offering your editorial support.

Share technology, innovation and news on SF4T – we are sustainable!

We do not use paper, nor transportation to deliver magazines – we just use the internet.
SF4T Surface Finishing for Target is a digital platform, entirely in English, dedicated to surface treatment.
Academic & Sciences
Permanent section with no time limits dedicated to the academic-scientific definitions of the various technologies.
Blasting
Specialized area for producers of sandblasting machines and sandblasting systems
Cleaning
Specialized area for manufacturers of industrial and ultrasonic cleaning machines and systems
Coating
Specialized area for manufacturers of surface coating machines and systems
Electrochemical process
Specialized area for manufacturers of electrochemical surface finishing machines and plants
Engineering & Consulting
Specialized area for engineering, design, certification and consulting companies
Events, Seminars and Webinars
Area dedicated to events, fairs, congresses, seminars and webinars
Grinding
Specialized area for manufacturers of robotic grinding systems
Media and consumables
Media and consumables for finishing, sandblasting, shot blasting etc.
Peening
Specialized area for producers of shot peening and shot blasting machines and plants, shot peening, flap peening
Polishing
Specialized area for manufacturers of robotic surface cleaning and polishing systems
Post Process & Finishing for AM
Specialized area for manufacturers of post-process and finishing machines and plants for Additive Manufacturing plants