We have invested first of all in good relationship with our technologic partners – just to name a few: 
Rollwasch is the manufacturer of the machines and automatic systems we design, and who is sharing with us some strategic patents like VibroBLAST, QUATTROFINISH Media, MicroFLUID finishing process and some other smart technologies, media, compounds and systems that we are addressing to the Addittive Manufacturing Post Process and Finishing; 
Together with Rollwasch and Spengler (see here after) we have founded the Company-Network IntegrAM  to offer a specialistic support to the Additive Manufacturing fiels as far as Post Process and Finishing are involved.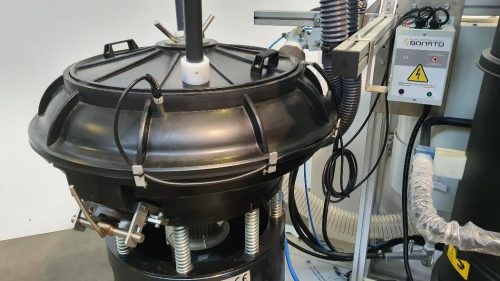 One Finishing Equipment VibroBLAST specifically designed. For the AM field, manufactured in Italy at Rollwasch 
Spengler is supporting customers with specific consultancy and, between other specific consultancies dedicated to the AM field, they are distributing machines, systems and technologic solutions offered by the IntegrAM network, mainly in the French market, but not only.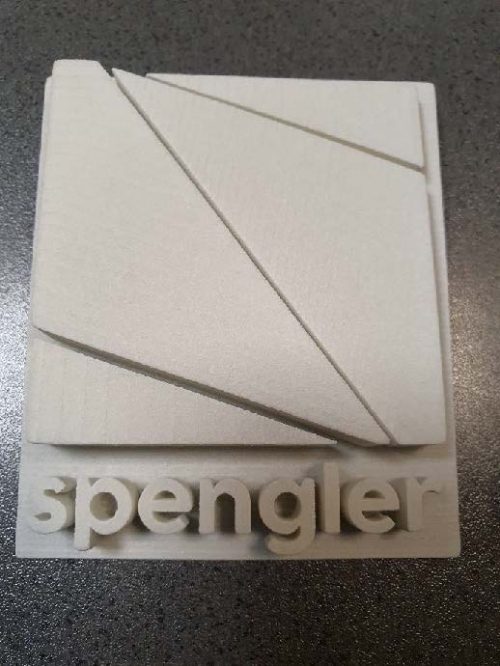 A component made with SLS Selective Laser Sintering. Technology, in PA12, under supervision of Spengler. Coordinating its full Post Process and finishing 
TCN is involved in a three years R&D program together with Techno Surface, sharing one patent pending solution called "STEAM-DYEING TECHNOLOGY". 
This dyeing technology is a peculiar result of the synergy between advanced colour technology of TCN, who has offered his support during the past years to enable Techno Surface to test an innovative Steam technology that allows, in one time: 
1. To reduce, for example to dye about 20-30 liters volume of polymeric components, the quantity of colour used from 3000 gr. To about 125 gr., thus producing a fraction of the pollution initially generated in the "classic mode" 
2. To reduce the quantity of water used to produce a batch of components, reducing as well the volumes of polluted effluents generated with the "classic mode" 
3. In the period 2024-25 TCN will also formulate a completely new range of BIO-COLOURS, made exclusively using bio-compatible and/or bio.degradable natural substances to get the required dyeing target. 
All the above has been achieved using machines designed by Techno Surface and manufactured in Italy by Rollwasch Italiana Spa, who has a full compliance to the complex specifications generated by the techno Surface design.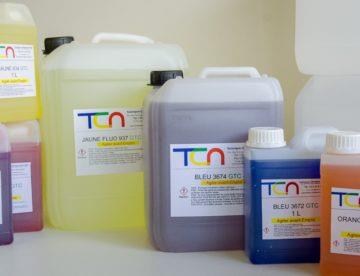 TCN Dying colours, a range of products of high quality, for Polymers of all kinds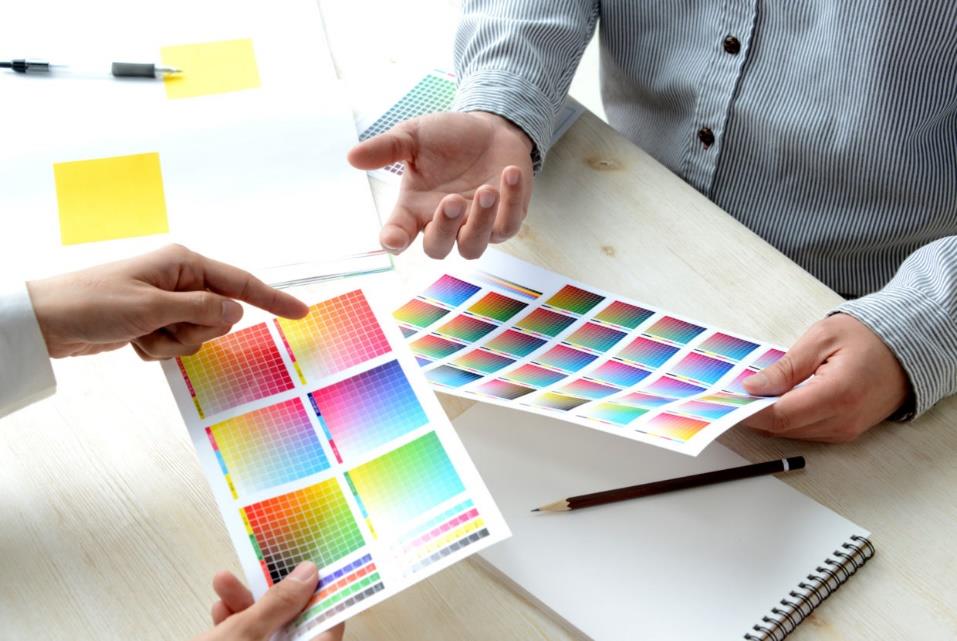 Key point of TCN is a Laboratory Skillfull for the quality check of coloured parts 
UNITECH Srl is specialized in the research, development and production of solutions in the ultrasonic technologies. The continuous and rapid technological evolution and the need for ever higher quality standards require the daily research and development of increasingly innovative solutions where quality and reliability play an absolutely vital role in all working processes. 
In partnership with Techno Surface, Unitech has developed in 2022 the first prothotype of "EcoSONIC" cleaning system.  This technology born from a patent pending solution designed from Techno Surface, is today available in its first demonstration system that is going to be available in the show room of Unitech in its new headquarter, in the neighborhoods of Padova, Italy.  The concept of applying a sonotrode of 20 kHz into a vibratory finishing machine having a circular working bowl, is capable to produce a fully automatic cycle spacing from washing, to rinsing and to the final drying with affordable budget and reduced space.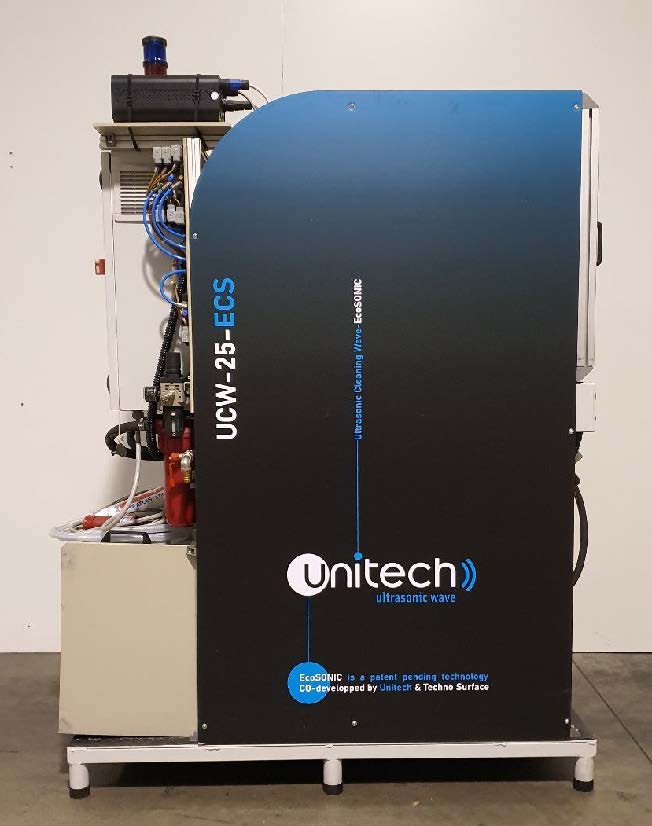 The first demonstration system UCW-25-ECS 
Able to wash, rinse and dry in fully Automatic mode.
Example of logo customization 
Funny but real, Unitech does not produce cleaning machines and systems, but this first demo machine is the necessary first step to demonstrate how advanced and fruitfull can be the use, in practical terms,
of the ULTRASONIC TECHNOLOGY made by UNITECH.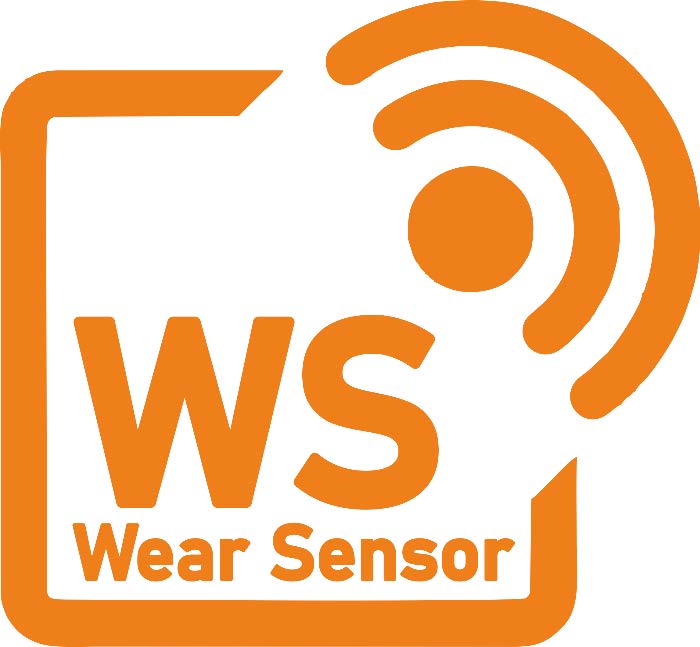 Depending on the final destination of this kinds of sensors, we are offering the option to have a cable connected or a wireless connected sensor. 
In the moment of the interview we are considering projects applied to several fields of application, although the time to dedicate to the study of each single application could lead to many months or even years, specially when we talk about nano technologies or micronization of the sensors. 
We have, in any case a long way to go further, with a quite high potential in the patent demands already deposited/accepted and in the projects already developed.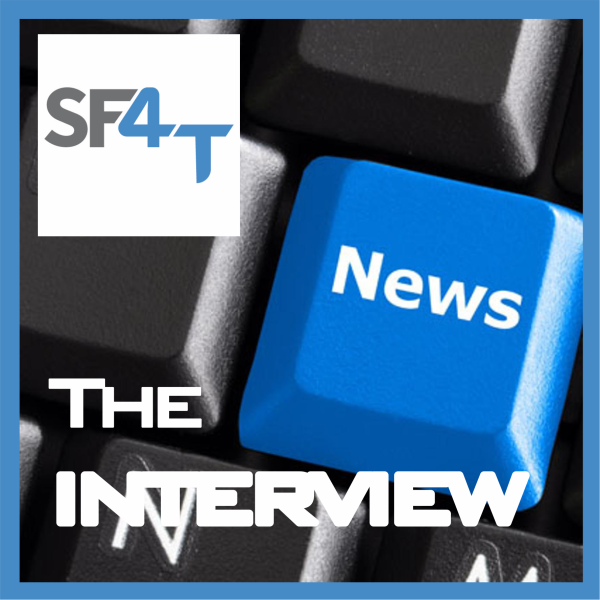 During 2022 The Editor of SF4T, Laura De Capitani, has scheduled several interviews to its subscribers